VIDEOGAME URBANISM
you + pea


Through our Videogame Urbanism research, we examine how game technologies can be used as new forms of architectural representation. Architecture has a long history of speculative projects that questioned what cities and societies could be, but architectural models and drawings were typically designed to be viewed rather than interacted with. By contrast we see games as a way of directly engaging architectural design with new audiences through play. We use speculative scenarios drawn from real world research that use games as a medium for architects to engage with the contemporary city that incorporates narrative and theory into their structure. By developing game-based interfaces we create new forms of urbanism that emphasise the experiential and qualitative aspects of cities through virtual spaces while challenging the top-down nature of urbanism by inviting new audiences to participate in critiquing such systems. Alongside the construction of playable game spaces, we also use screenshot techniques to produce drawings as records and extensions of the temporal and interactive virtual urbanism we design.





We see games as tools to re-energise the utopic and speculative spirit of architects whose work challenged the boundaries of the discipline. We often recreate seminal historical projects as games to interrogate them. Responding to Arata Isozaki's City in the Air, one game systematically recontextualises his urban structures as trees. By modelling seed distribution systems, the game allows his urbanism to grow organically atop an existing city as players interact with the architecture. Living With the Continuous Monument imagines the impact of Superstudio's seminal project if it was actually built. Using a series of scenarios drawn from Superstudio collages, the game explores how different cultural contexts would react to the monument by giving the player a series of tools to engage with its generic gridded form.




And Arcology Generator looks at Paolo Soleri's self-contained urban blocks, allowing the player to combine different Arcological elements together to create new cities.

We also use games to interrogate the urban morphology of existing cities. Homestead was a game which developed a series of 'Case Study' suburban houses inspired by the writings of Banham. Each house prototypes a unique way of living defined by Angeleno urbanism, to be uncovered by the player. Lost Angeland looked at how LA has
been shaped and formed across its history, letting the player go from the city's founding to the present day in 5 minutes, from oil fields to storm drains, from downtown to surburban drift.





And Permaville is a study into The Sims suburbanism gone wild. By studying the economic models of the game, the Sims hobby of gnome-making was identified as the most profitable activity, reinventing suburbia as a home-made industrial zone of gnomic industry.

We then use games to tackle issues facing cities today, particularly London. Snooper's Charter is an open-world game that challenges London's vast surveillance infrastructure. Acting as a subversive hacker, the player fights to preserve their identity against the city's encroachments on their privacy. Through multiple viewpoints we explore surveillance urbanism through the eyes of a citizen as well as through all the eyes for seeing that regulate our modern cities.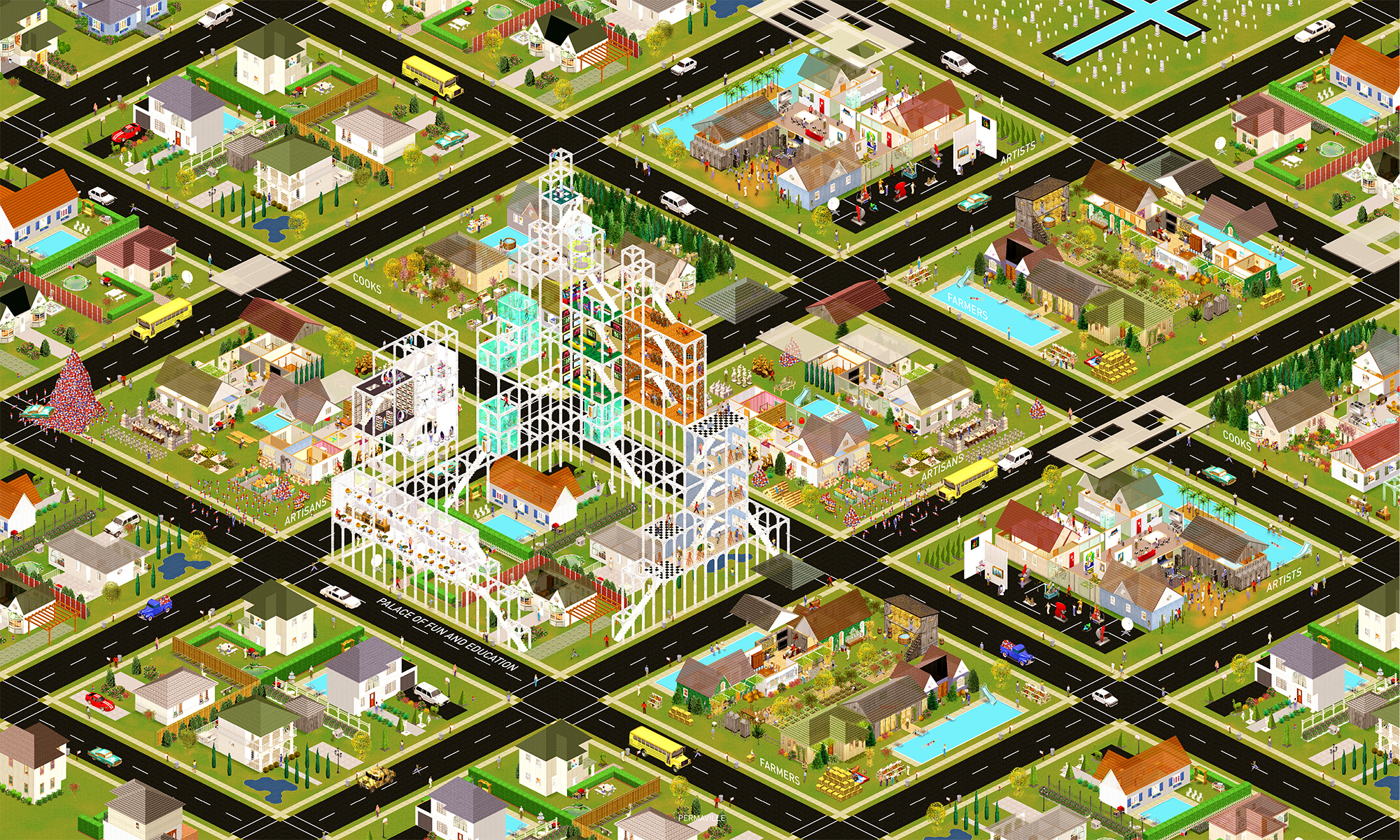 ...

You + pea is the architectural design practice of Sandra Youkhana and Luke Caspar Pearson. They currently run Research Cluster 12 at the Bartlett School of Architecture, exploring Videogame Urbanism, and have lectured on this subject internationally.




youandpea.com