SENDER
realities: united
"Sender" is a temporary installation as part of the light festival Urban Lights Ruhr, presented by Urbane Künste Ruhr. Mounted on the parking deck of local Turmarkaden shopping center, a single-arm robot performs gestures of waving and signaling with different objects. The industrial robot, about 3.10m in height, has access to 4 different objects that it can pick up and lay down separately. The actual signaling choreographies are influenced by the local light and weather conditions.
"Sender" is a performance with neither a beginning nor an end. The installation is situated in a no place, an abandoned parking lot on the roof of a hardly used shopping mall. Right next to it, an untenanted tower building awaits the wrecking ball.
The main objective of the industrial robot is to continuously perform large and simple gestures of waving. During the day it uses a signal flag, at night, a lightsaber. In addition, the device's automatic tool changer can pick up two additional tools, a dumbbell and a portable roof.
It's a lonely sentinel. It's uncertain whether the signals reach anybody in the distance. Nobody answers. Counterpart and addressee remain unknown. Maybe it's the old city center "Nordberg", a kilometer away, which has yet to make the desired connection to the "new center". The signs can be seen from the new 70s town hall, right across the street, and probably from outside the city.
No human but a robot is performing the simple but oversized choreographies. The high-tech machinery unswervingly stays in motion - it's not unemployed, yet "underloaded". In any case it acts out of its usual domain. The machine, native to the automobile industry, has been retrained.
It remains unresponsive to the provocation of an empty parking lot, it resists restocking the missing cars through its own production: It already tackled a new task.
The flag waved diurnally, is yellow and red, two colors of Bergkamen's sigil. In maritime codes, the flag also means "man overboard" but the machine exudes no panic or hectic arousal. The signs are not desperate calls for a vitally important and maybe final action. Far from it: The machine is set for a long-term, lasting and diligent performance of the tasks. In bad weather conditions, it pauses under the mobile roof at hand. Regular dumbbell training underlines the will to endure or even improve over time.
The untiring and firmly sprung movements and the unrelenting nature of the robot express clarity and determination. The unfailing accuracy of the movements or the choreographic precision of picking up and laying down the tools imply the importance of every detail in the performance.
The waving movements are executed in ritual perfection, analoguous to the consistently trained "Kata" of Far Eastern martial arts. These are performed with no adversary or recipient – the "Sender" is also the receiver. The drill is an end in itself, a form of meditation as an act of self-refinement.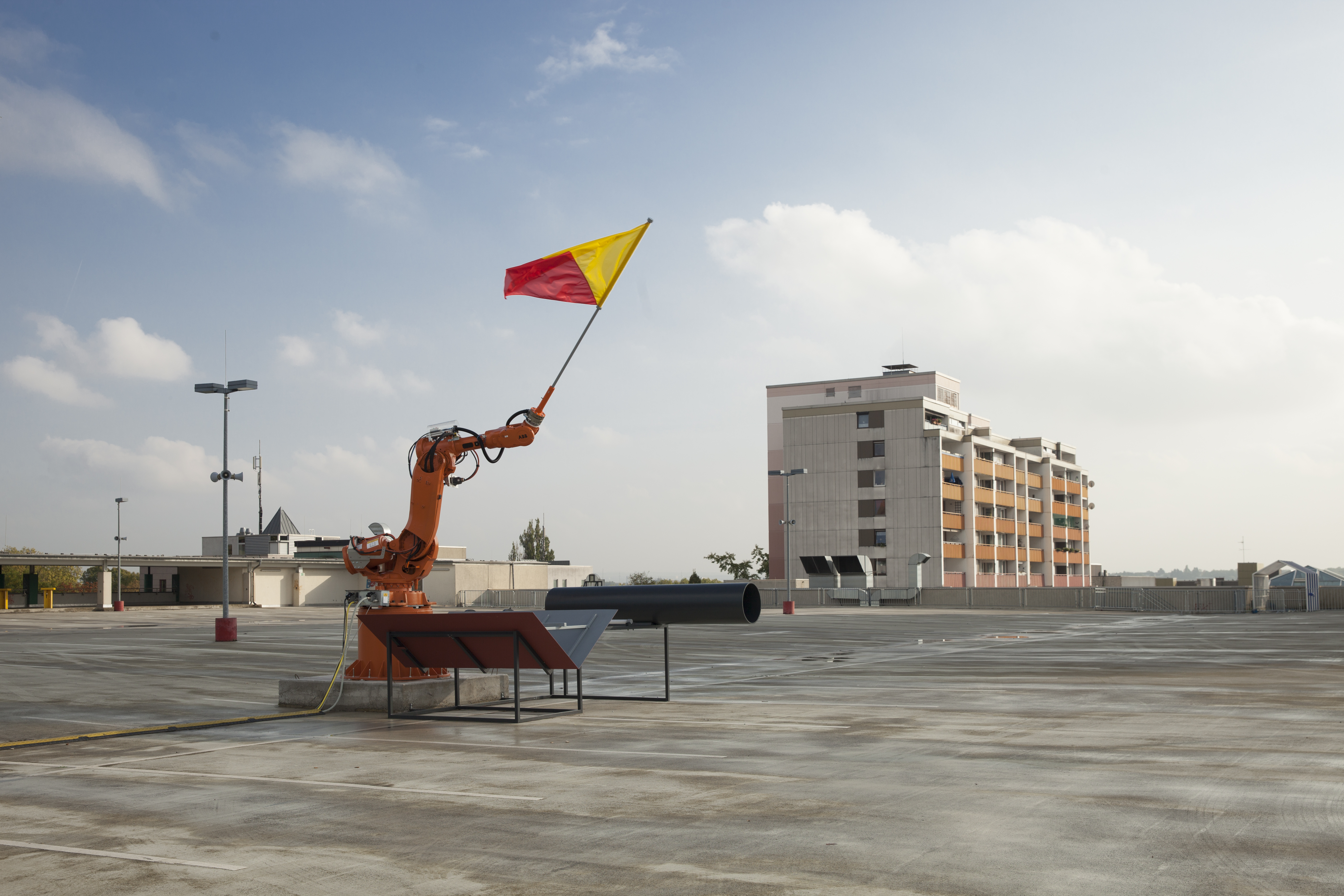 ...

Project management: Daniel Mock
Team members: Erik Levander, Ilja Leda
Assistance: Vincent Meyer Madaus

The installation "Sender" was developed by berlin-based artist group "realities:united" under the direction of Jan and Tim Edler. The studio has gained international recognition for initiating and realizing art- and hybrid art installations at an architectural and urban scale across the globe.



realities-united.com