IKEA DISOBEDIENTS
Andres Jaque / Office for Political Innovation


IKEA delivers societies.

IKEA is a purveyor of social structuration.

98% of the people depicted in the IKEA catalogue are young.

92% of them are blond.

They all have some sort of family life.

They are either children, or busy having children.

Everything IKEA manufactures is aimed at turning the sphere of domesticity into a sunny, happy, apolitical space inhabited by contented, healthy, young people.

The sense of a home or a household's life, however, may also be constructed from day to day in quite different fashions.

Not all of us are healthy.

Not all of us are young.

Not all of us are into having children.





For the last two years Aurora has been living in Ethiopia, Cambodia and Turkey, working as a volunteer in cooperation projects. She now lives with her girlfriend in Madrid, where they share a downtown apartment with four more people. During all this time she has never lived in the sort of environment that might fit conventional descriptions of familial space, and yet she's been part of different forms of domesticity shaped by the flows of affection and reciprocity between people not joined by a common past.





Nayana came to Spain looking for a job and for education opportunities. Her getting married was not meant as an expression of the love and commitment shared with her partner, but was intended rather as a means to obtain a legal status facilitating her professional projects. Her domestic life was therefore shaped by the way interpe sonal relationships are officially construed.





Frank Traynor brought an old wooden shack from upstate and set up camp in a rare garden, belonging to two designer girlfriends, squashed between existing buildings in Brooklyn. The designers are happy by the way he keeps the garden beautiful and makes it a lively place by entertaining all sorts of easy going acquaintances. The attractive garden draws passing people into his shop where he sells all sorts of things that he collects. He pays no rent in money, but instead delivers contributions to improving others' daily lives. Comfort does not come out of familiarity, but from the possibilities of association, resulting from the encounter of the difference.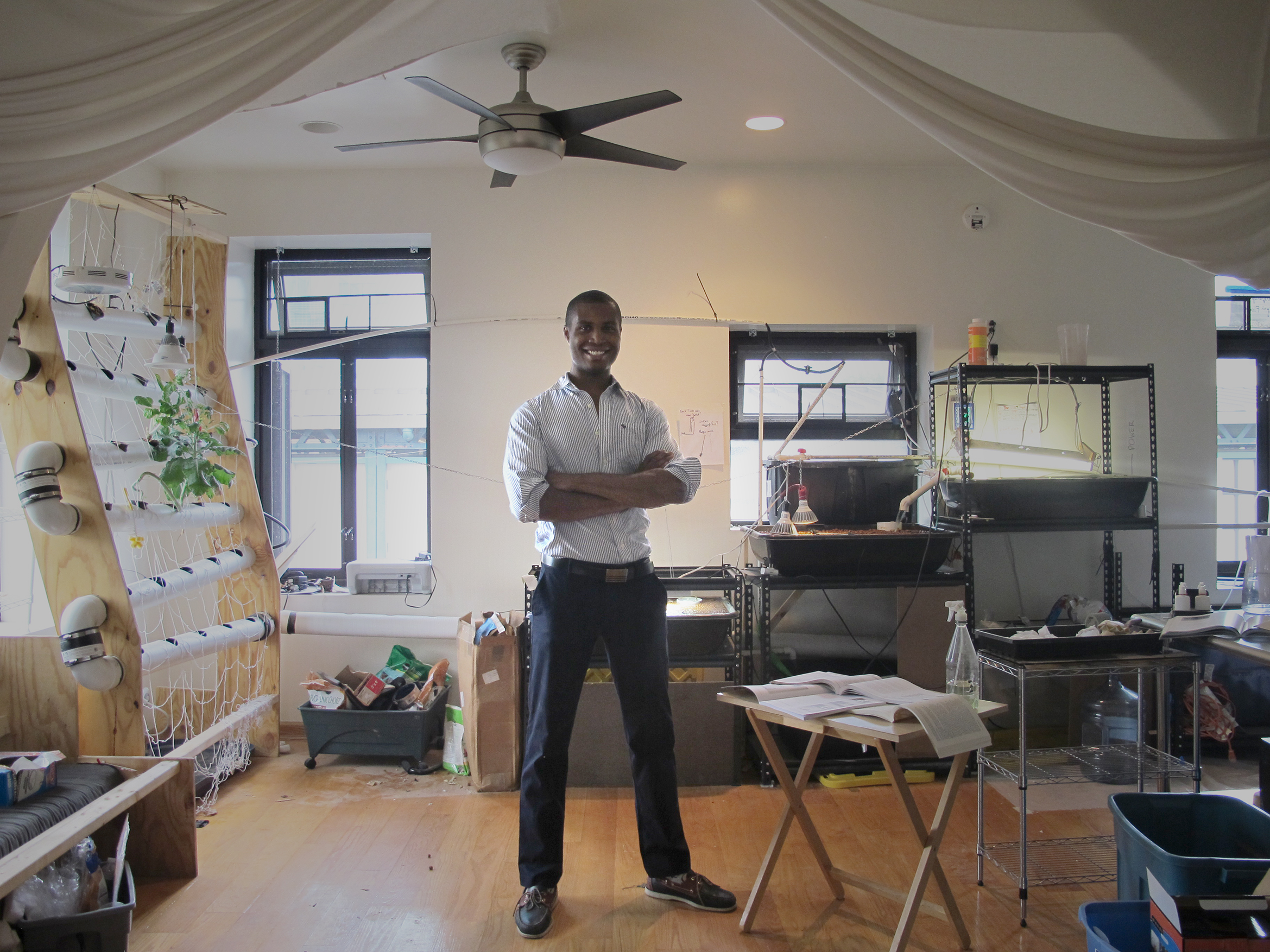 Rael Michael Clark rents an apartment in Queens and it is the place where he carries out his extensive research and invention work on aquaponics, a self-regulated system to produce food. A series of experiments in which hydroponics are combined with the way fish are raised in aquacultures. He can afford the cost of these experiments by letting others use the lab space for celebrations. His apartment is not the place where reality renders itself familiar, but the very location where Rael encounters the uncertain.
...

Andrés Jaque is the founder of the Office for Political Innovation. He is Advanced Design Professor at Graduate School of Architecture, Planning and Preservation GSAPP Columbia University and Visiting Professor at Princeton University SoA. He has been Tessenow Stipendiat 1998 by the Alfred Toepfer Stiftung FVS, in Hamburg, and visiting professor in a number of international universities.

Office for Political Innovation, a Madrid/New York based practice directed by Andrés Jaque, develops architectural projects that bring inclusivity into daily life. All their architectures can be seen as durable assemblages of the diversity ordinary life is made of.

In 2014 they recieved the Silver Lion of the 14 Mostra Internazionale di Architettura, Biennale di Venezia and they are authors of awarded projects such as Plasencia Clergy House (Dionisio Hernández Gil Prize), House in Never Never Land (Mies van der Rohe European Award's finalist), TUPPER HOME (X Bienal Española de Arquitectura y Urbanismo), or ESCARAVOX (COAM Award 2013).
www.andresjaque.net