3.C.CITY
WORKac + Ant Farm





In 1978, Ant Farm's studio and archive burn down, and the group disbands.

In 2015, WORKac and Ant Farm's Chip Lord and Curtis Schreier come together to reconstruct the lost archive. Focusing on the architectural scales of house, building and city, WORKac creates new drawings of the House of the Century, Dolphin Embassy and Convention City. A conversation, recorded as 'Hacking Ant Farm,' identifies a series of shared interests between the two practices and leads to a new proposal: 3.C. City: Climate, Convention, Cruise.





3.C. City transforms Ant Farm's polemical explorations of a counter-America to today's global context, in which climate change is challenging architecture to engage in urgent diplomacy and become an agent of change.
3.C.City is a floating city, unbound by national allegiances and designed to facilitate dialogue and debate– between people and other species. It is a vessel, a research lab, a conference center, and a vehicle of dreams.

3.C.City rises from three stability pods, bending a thickened perimeter of housing to create a giant interior landscape of participation, centered on an interspecies congress hall.

3.C.City proposes a new symbiosis between ecology and infrastructure, public and private, the individual and the collective. A series of voids provide vertical connections and spaces for collectivity. Inflatable walls hold horizontal infrastructure and create zones for private life. Solar panel shingles, pockets of greenhouses and gardens, an algae farm for biofuel and a water-collection river all combine to render infrastructure as architecture.





WORKac and Ant Farm hereby define the Art of Architecture as continually in flux: a dialogue rendering architecture as a relational, synthetic practice that undoes and reconstructs itself by by questioning dogmas, expanding the canon and inhabiting its edges to project multiple potentials and futures - while also rewriting its pasts.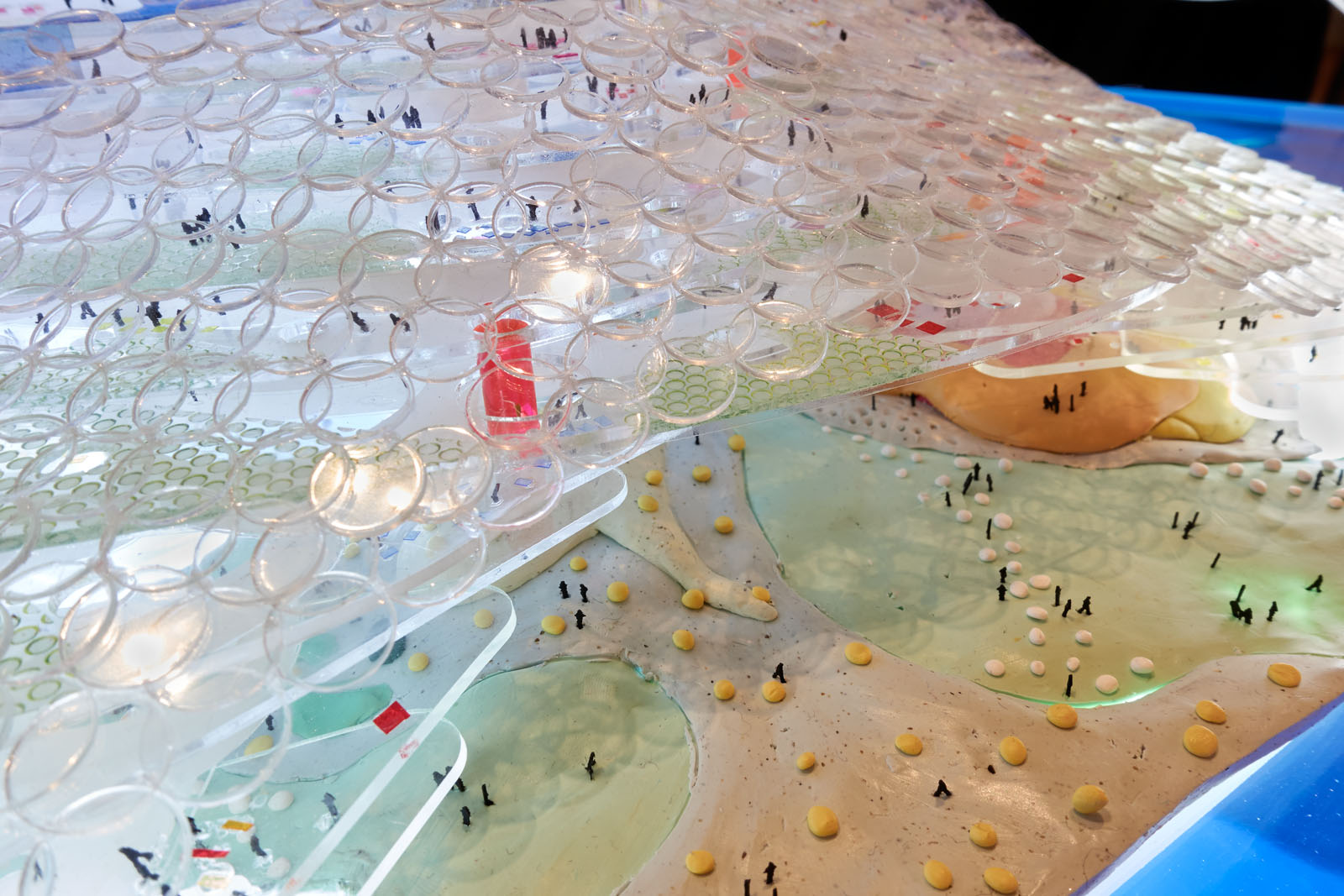 ...

Ant Farm was an avant-garde architecture, graphic arts, and environmental design practice, founded in San Francisco in 1968 by Chip Lord and Doug Michels, later joinedby Curtis Schreier. Ant Farm declared itself an "art agency that promotes ideas that haveno commercial potential, but which we think are important vehicles of culturalintrospection." Their architectural work includes several seminal inflatable projects(1970–1971), the House of the Century (1972), and many unbuilt projects. In addition, the collective was well known for their countercultural performances and media events, such as Media Burn. Their installation Cadillac Ranch remains an icon of American popular culture. While Ant Farm officially disbanded in 1978 when a fire destroyed their San Francisco studio, Lord and Schreier have continued to collaborate on projects and installations.

WORKac creates architecture at the intersection of the urban, the rural, and the natural. They embrace reinvention and collaborate with other fields to rethink architecture "in the world." In the face of overwhelming challenges and increasingly normative scenarios, WORKac remains stubborn in their commitment to imagine alternate scenarios for the future of cities. They bring the more productive aspects of the urban discourse—from density and compression to appropriateness of scale, the expression of intelligent and shared infrastructures, and a more careful integration between architecture, landscape, and ecological systems—to bear upon architecture as they find shared concerns across their global practice. WORKac holds unshakable lightness and polemical optimism as a means to move beyond the projected and toward the possible, an ambition with which they approach every project.



www.work.ac